Gorgeous baby knitting pattern


Baby cardigan, romper, bonnet and socks



Baby knitting pattern - Model 0004B HELENA - Cardigan, Romper, Bonnet and Socks
Sizes:  0 – 3 mnths (3 – 6 mnths), 6 – 9 months
I am not sure why I chose this special pattern for baby knitting.
However, when I had designed this pattern I also started knitting clothes for my doll. 
As I was knitting the jacket I thought this pattern was great for baby knitting.  I thought it was beautiful.  It reminded me about ...

... the time I had babies myself and knitted their baby clothes.  I loved to knit these garments.  Maybe we can call it nostalgia? I don't know!
I thought how many of you asked me to upgrade the doll clothes to baby sizes, and wanting to knit exactly this pattern for baby clothes right now,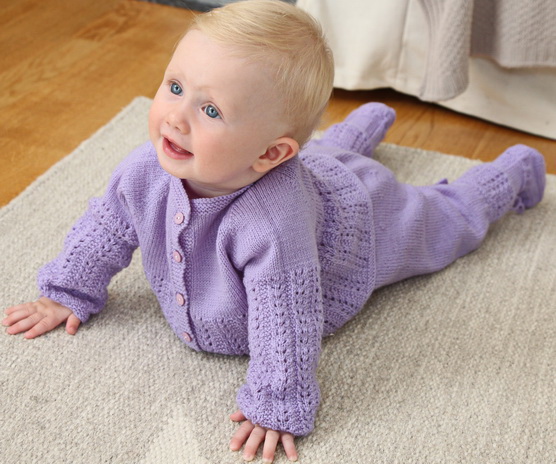 I had knitted the doll clothes in a special color called sand color. 
This color can be difficult to find but these clothes are very nice knitted in white, blue or pink, whatever you prefer! I had a lot of lilac yarn here. 
Therefore I knitted the clothes in lilac, beautiful for a little baby. Just look at the little girl on the video! She is so lovely!
---
See video with 0004B HELENA
(bigger video at the bottom)
Please share this with friends and family!

---
Gorgeous baby knitting pattern
Model 0004B HELENA
-
Cardigan, Romper, Bonnet and Socks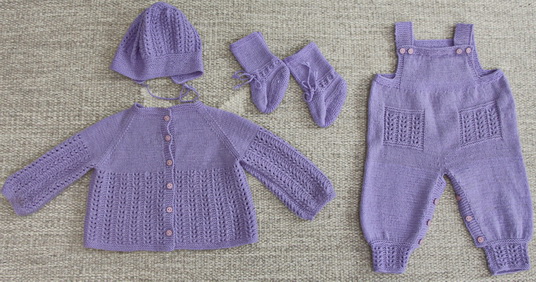 ---
---
004B HELENA


Cardigan, Romper, Bonnet and Socks 
Gorgeous baby knitting pattern
(Click on the picture to view more and bigger picture in the photo gallery) US $8,95











---