We enjoy creating this
baby knitting pattern site.
We hope you will like it.
Maalfrid's corner
Hello and thank you for visiting us.

I am living at the beautiful south-western coast of Norway, near by the town Stavanger, a nice place to stay for one who likes to walk in the Norwegian countryside, especially in the mountains. I also like to travel and see foreign countries and places.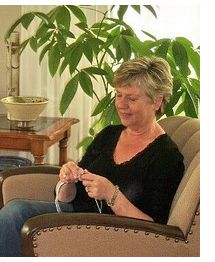 Knitting for little babies is closest
to my heart 
Welcome to my new website with baby knitting patterns. I thank you so much for the great interest and the response you have shown me in connection with the patterns that we have available on our doll knitting pattern website. It is very nice with so much positive and good feedback. It feels good and I want to continue to create new designs for both dolls and children. During these years since my first knitting book came out, I've got so many questions why I cannot make clothes to fit babies and toddlers. 

We have worked with the idea to make this happen, and finally, in 2011 we were ready with a free pattern for you who want to knit clothes for "little people". It has always been knitting for babies that has been closest to my heart! 

The knitting of small items in bright and beautiful colors and using fine merino wool yarn so that the garments are soft and lovely to wear gives me great joy! Cotton is also delicate to knit with and it fits this kind of work very well ! For me it is important that the yarn is thin! The clothes for these little ones will be extra nice then. 

Regard Målfrid 

More about Målfrid here. 

---
My job is to shoot shoot the photos, publish the patterns, mananage the web building system and the cooperation with Payloadz (the netshop) and PayPal (the bank), to send the newsletters and to get everything to work. It is a pleasure to help Målfrid making her gorgeous patterns known world wide. 

Kjell Ramstad