Baby blanket knitting patterns
Målfrid has created the most wonderful 
super soft, warm and easy to knit baby blanket for your baby. 
Baby blanket knitting patterns - Model 0001B SOFIA

The blanket measures ca. 75 x 60 cm finished (27.5 in x 23.6 in), knitted in waffle seam (waffle seam instructions)

---
Our first pattern is a gorgeous baby blanket, which I have knitted in pink. You can of course use any color.

I thought it would be a good idea to start with a beautiful warm wool baby blanket. We all love to have a soft baby blanket to put around our little "miracle" as soon as he / she is born. You may want to knit it to your own baby, or maybe you want to surprise an expectant mom ... anyway the blanket is super to wrap around the baby when taking her home from hospital, it will be gratefully received. The baby blanket will be an amazing Christmas gift easy to knit...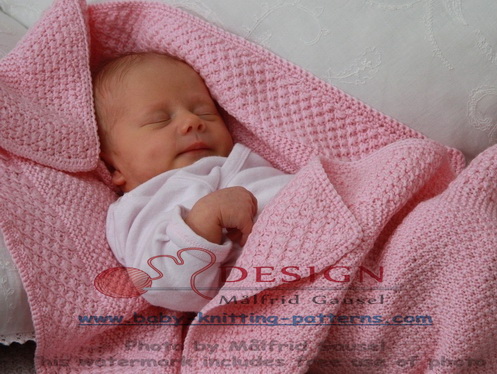 Little Sofia, just a few days old, now enjoying one of the most wonderful, warm and soft places in the world ... wrapped in Maalfrid's super soft and warm baby blanket.
.. and now it is the right time to start knitting for Christmas presents. 

You can of course knit this blanket in cotton if you don't require the extra warmth that wool gives. All babies would be happy to be wrapped in this beautiful soft blanket, of course you will have the joy of wrapping this blanket around your dear, little newborn baby.

The border of this wool baby blanket knitting pattern is a pattern called waffle seam, a pattern which lovely for baby clothes. It is also a most appropriate border for this blanket. 

The baby wool blanket I have knitted measure about 75 x 60 cm. It is a small blanket, which is very useful for the newborn baby. As our babies grow so quickly you might like to knit the blanket larger. Knit the same border around the blanket but cast on more stitches. Please be aware that the stitches always need to be divisible with 4 + 3 extra stitches. 

Throughout the years I have knitted many baby wool blankets and baby cotton blankets for my friends. They have been extremely popular and gratefully received. 

Regards 
Målfrid

---
PS. Share lovely things-
I hope you will love this outfit as much as I do and I will appreciate very much to see you sharing this page on Facebook or Twitter. Do you like some of the lovely pictures, click a PinIt button and add them to your Pinterest album.
                                      Regards Målfrid

How to use these social media buttons ... here
---
001B SOFIA

Baby Blanket 
Baby blanket knitted
in pink          
(Click on the picture and view more pictures) US $8,25







---